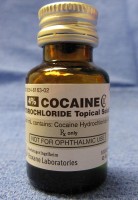 Bogota, Sep 7 (EFE; additional reporting by the Costa Rica Star).- A joint operation conducted by police in Colombia and Mexico resulted in the seizure of two tons of cocaine hidden in a shipment of toner for printers and photocopiers, but no arrests were made, Colombian National Police chief Gen. Rodolfo Palomino said Monday.
Police seized 1,070 kilos of cocaine in the cargo terminal at Bogota's Eldorado International Airport, Palomino said.
Airport authorities became suspicious when they noticed that the shipment of toner was destined for the northwestern Mexican state of Sinaloa, the police chief said.
A drug-sniffing dog inspected the container and found the cocaine, which was packed in 48 boxes of toner cartridges "wrapped in plastic bags, labeled and ready to supposedly be exported," the National Police said in a statement.
Chemical tests done on the toner confirmed that it contained cocaine.
Why Black Cocaine?
According to a COLPRENSA report
published by El Nuevo Dia
in Ibague, Colombia, the seized cocaine was not treated with food (vegetable) dye; it was, in fact, mixed with dry, black ink toner powder.
Clearly, the concealment of cocaine by means of a mixture with ink toner is an attempt at deception. Notwithstanding a clever and risky marketing campaign; it is unlikely that black cocaine would be welcomed among traditional users who are used to a dazzling, achromatic white aspect.
To separate the cocaine from the toner and make it white again, chemists would need to use solvents such as methylene chloride, which is an organic compound, for the purpose of extracting an alkaloid base. Yet another process would be needed to convert that base into powdered cocaine hydrochloride, which can then be dealt by distributors and retailers.
Drug enforcement agents determined that another shipment had been sent by air to Mexico City a few hours earlier and notified Mexican authorities, who impounded a plane carrying 961 kilos of cocaine hidden in toner.
"No arrests were made in either of the operations, but Colombian police and their counterparts in Mexico have evidence that the two shipments were apparently going to be received by members of the Sinaloa cartel and were sent by a drug trafficking network based on the Atlantic coast of Colombia," the National Police said.
Investigators suspect that both the exporter, a company based in Bogota, and the importer, a corporation registered in Sinaloa, are fake, officials said.
A total of 115 tons of cocaine have been seized in Colombia this year along with 47.2 tons of the drug seized abroad via operations with foreign authorities, the National Police said.
The Sinaloa organization, sometimes referred to by Mexican officials as the Pacific cartel, is the oldest drug cartel in Mexico and has large smuggling and distribution networks in South America, the United States and Europe.
Guzman, who is considered the most powerful drug trafficker in the world, tops the list of Mexico's most-wanted criminals and is on the Forbes list of the world's richest people.
The Sinaloa cartel, according to intelligence agencies, is a transnational business empire that operates in the United States, Western Europe, Eastern Europe, the Americas and Asia. EFE