"Restaurant was dirty and flies buzzing around!"
"The food was very greasy. The floors were covered with garbage."
"Bathrooms, filthy! Dust everywhere! If you're not going to clean all the antiques, then don't display them!"
These are just some of the reviews the legendary steakhouse The Barn Door in Odessa, Texas received in the past year.
Sounds lovely, doesn't it? But it doesn't matter how dirty this dive is... or if it charges $0.75 for a glass of tap water.
The place is packed every night.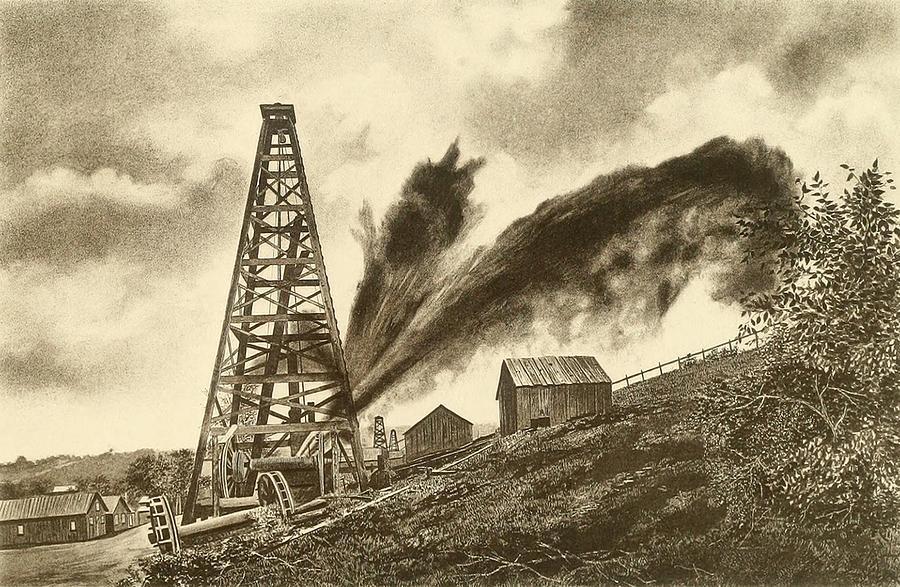 On Friday nights, it becomes a zoo, overflowing with oilmen ready to drop $60 on a steak — the restaurant's banner entrée dubbed the Tomahawk.
The Tomahawk is a carnivore's wet dream. A perfectly aged bone-in rib-eye steak that's at least two inches thick and about two pounds of what patrons describe as "succulent glory." It could bring Fred Flintstone to his knees.
Management at The Barn Door must love it too... the Tomahawk sells out every single Friday. And with thousands of oil workers migrating to West Texas, it's no small wonder that eateries in the area are seeing huge spikes in business.
Revenue at The Barn Door jumped from a recent $1.4 million to an estimated $4 million for 2013. The local McDonald's boasts wages of $14 an hour.
And it's all because of the oil rush back into the legendary Permian, where multiple new shale oil formations have been discovered thanks to horizontal fracking.
Tomahawk steaks, Big Macs, and oil aren't the only industries soaring in the region. Everything is booming. Million-dollar homes are popping up in the city of Midland like dandelions on a spring hillside.
From 2011 to 2012, there were 33,000 new vehicle registrations given out. Traffic has become so congested that advocates in the area are seeking $1.5 billion in fixes to roads burdened by heavy trucks.
Crowded highways didn't stop holiday shoppers, though. Unlike the rest of the U.S., retail stores averaged a 7.4% bump in sales, while some places saw increases of 15-20% compared to 2012.
Maybe that's one reason why the Midland and Odessa areas have some of the lowest unemployment rates in America. While the rest of the nation sat at 7.3% unemployment in October 2013, Midland was at a paltry 3.1%.
And the rising tide is lifting all ships. The Standard Sales Company recently started construction on a $20 million beer distribution center. What goes better with a two-pound slab of beef than an ice-cold brew to wash it all down?
Union Pacific is getting in on the action too, with $14 million recently invested in railway expansion in the area.
Another sure sign that oil will be carrying Texas on its back for many years to come are the leases currently being acquired to build a 58-story skyscraper in Midland. Unlike any building ever constructed in the area, the tower would be double the height of the next tallest office.
So The Barn Door better get used to the hordes of hungry customers that sometimes wait more than an hour to get a table. The oil boom in Odessa is just starting...
A new report by a professor at the University of Texas predicts Texas shale formations alone will make up one-third of the global oil supply within 10 years.
Yes, you read that correctly. One-third of global oil production will be coming from Texas!
And if you think the professor is just trying to talk up his research, think again. Last week, Saudi Prince Alwaleed Bin Talal basically begged Saudi Arabia to address the threat of U.S. shale oil.
The billionaire businessman Bin Talal went so far as to call it a "matter of survival." Since 92% of his country's budget comes from oil, the prince should be worried.
In West Texas alone, there's a new formation I've dubbed "the Petroplex" that may hold as much as 100 billion barrels of oil. A formation that size would be the 2nd largest oilfield ever discovered on the planet.
That's what the CEO of Pioneer — one of the first major drillers to buy large acreage blocks in the Petroplex — said in an interview about 3 months ago:
"We believe [the Petroplex] will reach 100 billion boe recoverable reserves at some point in time [and it] could possibly become the largest oil and gas discovery in the world."
Now, maybe you think the CEO of Pioneer is biased, since his company's working in the region.
But here's what Forbes reported…
"… the region [Petroplex] is producing more oil than the pipelines can handle…" and "New infrastructure is being laid to send oil from the Petroplex straight to the refinery center in Houston…"
And CNBC said: "Oil flows like water in the Petroplex."
And it's about to get even bigger.