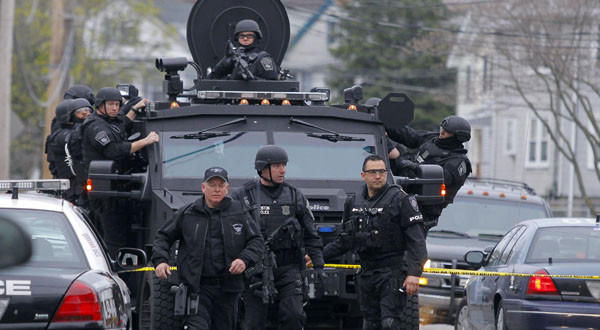 Welcome to militarized America. Every Podunk police department in the nation has been dipping into the military hardware cookie jar and carting off more than $4.2 billion dollars worth of loot.
Thanks to this "giveaway" your police department has military hardware–armored personnel carriers, anti-mine personnel carriers, and loads of goodies for the boys and girls in your local SWAT team.
The Guardian traced the militarization of US police forces, noting that military weaponry being donated to local law enforcement agencies are turning our cops into domestic soldiers who act not like peace officers, Officer Friendly, but well armed occupiers.:
America's streets are looking more and more like a war zone. Last week, in a
small county in upstate New York
with a population of roughly 120,000 people, county legislators approved the receipt of a 20-ton Mine Resistant Ambush Protected (MRAP) vehicle, donated by the US Defense Department to the county sheriff.
Between the Armored Personnel Carriers locking down main streets in
major American cities
– mimicking our MRAPs in Afghanistan – or Special Weapons and Tactics (Swat) and Special Forces units canvassing our country, if we're not careful, this militarization of our domestic policing will make-over America, and fast.
MOREHERE
This is having a dangerous affect on our citizens, especially when first responder/ambulance services are tied into the 911 system along with police agencies. EMTs and Paramedics deal with alll sorts of often combative patients–from belligerent and bellicose people in diabetic shock, to combative drunks, people in the midst of a drug overdose, and more.
There was a recent tragedy in Georgia, after a family called an ambulance and the cops showed up. With a threat vector mindset, they saw not a sick man, but an aggressor–and killed him.
Alicia Herron called 911 after she saw [Jack Lamar] Roberson behaving erratically after taking the pills to control his blood sugar. She says she thought paramedics were coming to the house, but the police arrived instead.
When the Waycross Police Department arrived, they say that Roberson behaved aggressively toward them and was "aggressively armed with two items used as weapons," leading them to shoot at him. But Herron says that the officers didn't say a word as they came in and shot the man.
"He didn't say nothing, the police didn't say nothing, anything, it was like a silent movie," she said.
How did we allow the United States to become an occupied nation?